Decoding The Hidden Market Rhyhtm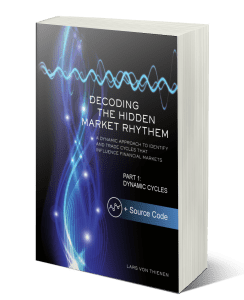 Part 1: Dynamic Cycles
Table of Content: Show TOC
324 pages / 5 video lessons
Price: 84,90 USD
---
Abstract / Summary:
A dynamic approach to identify and trade cycles that influence financial markets. This book reveals new algorithms to identify cycles that drive financial markets. Learn about how to properly detect tradable cycles in markets, how to use that information to improve technical indicators and how to forecast using cycles. Watch as we step through many trading examples using these tools.
The book provides solid knowledge on a new cycle analysis approach and ways to use it in the trading world. Included is the methodology behind the implemented tools along with concrete examples of how to put cyclic analysis into trading practice. This approach is different from traditional cycle approaches in that this is the first time that a dynamic approach to cycles has been presented.
WhenToTrade Charting Platform, WhenToTrade API integration or Wave59 Cycles Plug-In is available as an optional add-on to use the tools in a standalone real-time environment without coding requirements.
The newly revised 3rd edition "2017"comes with free ready-made downloadable source code and indicators for NinjaTrader, MetaTrader, C++, Excel and cloud-based API integrations.

Amazon Top 100 Bestseller in the category Business & Money Finance – Financial Engineering. (Link)